Recently we were asked to professionally paint the interior of a Home located in Severna Park Maryland for a customer that just moved into the area. The homeowner was not sure what color to go with, so we steered them towards the greys from the Sherwin Williams Palette, which has a number of great cool neutrals to work with. The staff at your local Severna Pak Sherwin Williams store is helpful. We were able to have our professional color consultant visit their home and create a program for each room. Eventually they chose SW 7029, Agreeable Grey, with one red accent wall in the kitchen (see pictures). The other rooms also stayed neutral in color including staying with the same wall color in the foyer and joining hallways. This creates a good flow through out. White ceilings, along with bright white doors and trim always looks good in common areas. When performing most interior painting projects for our Severna Park customers, having contrast creates a custom look.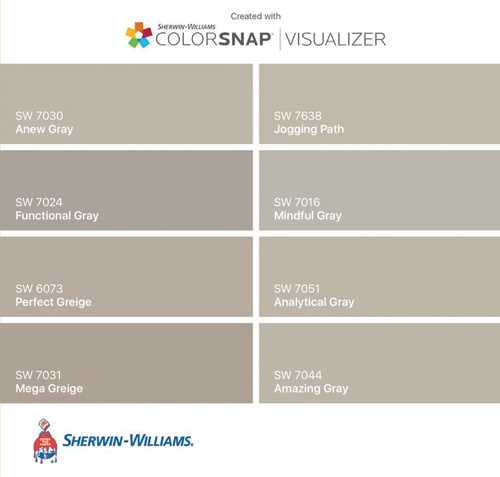 From our observations as professional painters, along with working with our Interior Designer, we decided shades of grey are very trendy these days, especially in the Severna Park MD Homes. Greys look great with natural light shinny through large windows. Earth tone greys create a neutral, pleasing backdrop for a wide range of fabrics, carpets and art-work, making them a great option for re-painting a space that is already furnished. Not only do they make rooms look bigger, they also tend to go well with wood floors, stainless, white or black appliances. When picking an interior color for your Severna Park Home, just remember, Grey is not just black and white mixed together; many variations can be achieved by mixing them with green, red, and gold, creating any number of warm, neutral tones. Like Taupes, these grey, or "greige" colors, work on the red/green dynamic, with some of these colors reading a bit "ruddier" and some reading more verdant.
What's great about complex colors such as these, is that they are "chameleons", and will appear different in different light and will adapt to their surroundings. This is why it is important to look at the clors in your Severna Park Home. When checking out the Sherwin Williams palette, look at colors like Agreeable Grey (SW 7029), Versatile Grey (SW 6072), Amazing Gray (SW 7044), as well as their darker and lighter counterparts, Such as Functional Grey (SW 7024), Perfect Greige (SW 6073) and Anew Grey (SW 7030).
So when you want YOUR Severna Park Home to look its best, call All Painting & Power Washing.