Pressure Washing Annapolis, Serverna Park, Anne Arundel County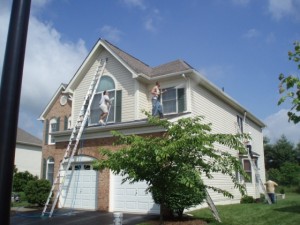 No matter how fastidious you are about your home's cleanliness, surfaces on the exterior of your house are subjected to a wide variety of abuse in the form of weathering and atmospheric degradation. For example, if you live in a major city – the elements in the air (smog, pollution, acid, etc.) will slowly eat away at the surfaces of your driveway, deck, and home exterior, staining them and causing them to lose their original luster. For many surfaces, staining and mildew are more than just a superficial concern, they can eat away at the surface over time to cause structural damage or even permanent scarring. If your home has lost its original luster, or if it's just time for an annual pressure washing to help your house or business stay fresh and clean, call your local Maryland power washing experts today.
What Is Pressure Washing?
Imagine how long it would take to go through every square inch of your driveway, deck, and all the other exterior surfaces of your home with a brush and a bucket. Even then, your ability to clean these exterior surfaces is limited by the amount of force that you can exert on the brush – and you'd rapidly bump up against the limits of human power. Luckily, pressure washing allows a small number of people to completely clean an exterior surfaces with the help of specialized power tools. Pressure washing equipment forces water through a tiny opening at great pressure, creating a huge amount of force that "blasts" away dirt without damaging surfaces.



Pressure washing equipment also usually uses detergents depending on the surface that is being treated, allowing the professional cleaners to clean surfaces even if they have deeply penetrating stains and grime. For example, if a store owner wants to clean graffiti off of their brick walls, there are special detergents that are designed to "eat away" at the graffiti while leaving the underlying wall intact. Our Maryland pressure washing company usually pre-treats surfaces before pressure washing them, using light brushing and detergent application to start loosening up the soiled surfaces before following it up with a pressure wash.
When Do You Need A Maryland Pressure Washer?
Pressure washing is both a corrective process and a maintenance service – depending on what you are looking for. The following are just some of the reasons you might engage a Maryland pressure washing company to come out to your home or business.
• Graffiti on the walls of your home or business is unsightly and often obscene. In a business, graffiti can be a signal to consumers that your business is unsafe, or that it should be avoided because the owners aren't taking very good care of the property. You can't repaint over graffiti unless it is removed first, as the oil-based paint in graffiti will show through thin layers of exterior paint. Our pressure washers can remove graffiti quickly and efficiently, giving you a clean slate to apply anti-graffiti paint if you so choose.
• Pressure washing is great at the end of Maryland's long winter to clean up your patio and your driveway from the pollen and the mildew that accumulate throughout the darker seasons. Pressure washing blasts away dirt and debris, and it brightens up the exterior surfaces of your home by washing off all of the filth that has dulled colors. After you pressure wash your home's vinyl siding, you'll be amazed at the transformation that your home goes through – with your home's colors looking brighter than ever.
• Getting ready to sell your property? Nothing increases the curb appeal of your home like a pressure washing. Pressure washing can expose the brilliant colors of your original exterior paint, bringing your home back to its status as the jewel of the neighborhood. The money that you spend on pressure washing will be repaid many times over by the increased value that people associate with your home. You wouldn't sell your home without vacuuming the floors, why would you sell your home without investing in a pressure washing?
• In a hurry? Pressure washing can be done in a single day – so you don't spend an entire week trying to manage cleaning in between your business and family commitments. If you want to get your home clean for an event, or you want to get your business clean without having to shut down during the work day, pressure washing is a great way to clean up without the high budget or the need for prolonged closing.
The Benefits of Pressure Washing
Unlike many other methods of cleaning your home, pressure washing doesn't use dangerous chemicals that can leave behind residue that will hurt your family or the environment. Many cleaning companies use powerful chemicals to avoid doing any of the "hard work" that pressure washing requires – but this can be a dangerous shortcut since it leave the potential that your paint/siding will be permanently damaged and your pets/children could get sick because of the chemicals left behind. Our Maryland pressure washing company only uses safe chemicals and non-toxic detergents when we clean your home or business, and we aren't afraid to get our hands "dirty" with hands on scrubbing and pre-treatment so we can clean your surfaces without the powerful chemicals.
Pressure washing can also damage your siding and other surfaces if it isn't done right. Since pressure washing involves a highly concentrated stream of water that has enough power to blast away dirt and grime, it can also damage loose siding and some other fragile surfaces. If you hire a random contractor to do your pressure washing, you have no guarantee that they have any experience with fragile surfaces or careful power washing. Our professional Maryland pressure washers have cleaned hundreds of homes and businesses, and they take the upmost care with your property. All of our employees will treat you home like it was their own – protecting your patio furniture and using lower pressures when necessary to protect and preserve your historic property.
Get A FREE Estimate Now On Maryland Pressure Washing
Complete the form below OR simply give us a call at 443-790-7145 right now, and a member of our Maryland painting staff will answer any and all of your questions.