No matter what kind of painting job you have in mind, there is a painter that can help you somewhere in Severna Park MD. Interior painting is a complex task that can add a great deal of value to your business or your home, and the right painter can work magic with any thematic choice. From a neutral paint job that is designed to enhance your resale value to a bright and colorful paint job that allows your personality to shine, our interior painters are perfect for your needs.
All Painting and Power Washing provides the very best Interior Painters in Severna Park MD.
Treat Your House Like A Home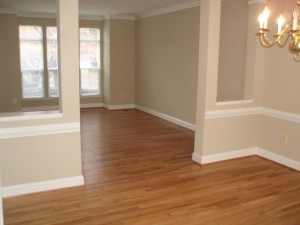 Your home isn't a construction site, no matter what kind of renovations you might be doing. You have to live in your home, and our painters understand that they need to minimize their impact to your daily life. We believe that painting should add value to your home without detracting from your daily life, and our painters are extremely careful and professional throughout the entirety of your painting project.

When our painters start work in your home, they will assess your needs in a one-on-one consultation with you and anyone else in your home that wishes to share their input for the project. If you already have a paint selected for your painting project, that's great! If you haven't chosen your paint, we can help you with your paint selection by showing you the different types of paint that might work for your surface treatments and the traffic level in your home. We believe that a paint job is best done right, and it is totally worth the additional money that you might spend on a better quality paint for the sake of longevity and ultimately better results.

Painting is an intensely personal chore around the home, since it is the ultimate expression of your personality and your creativity. Everyone has a favorite color – and bringing your personal colors to life in your home is a great way of making your mark on your new property. Life is too short to spend all your time living in a beige box, and our painters make it possible for you to bring a splash of beauty and color to any property that you inhabit.
Attention To Detail With Interior Painting
One of the reasons that you should go with our painting company is our commitment to care and detail in all of our work. There is so much that can go wrong in a painting job if you bring in the wrong people on the task. If you've ever tried to paint a room of your own house, you know how quickly a great paint job can turn into a total disaster. It is immediately obvious to the observer (or home buyer) which homes are painted by amateurs – since they have obvious brush strokes and the paint job is usually relatively bad around the trim and edges of the room.

Our painters are professionally trained and they "leave no surface behind" when they are painting your home – ensuring that your paint job is done right the first time and that it looks just as good many days from now as it did the day that you had it done. We believe that the key to a good paint job is the amount of prep work that goes into it, and we flatly refuse to take shortcuts that might lead to a bad paint job and an unsatisfied customer.
What Sets Our Interior Painters Apart?
If you check the local Severna Park, Maryland craigslist, there are literally hundreds of people that claim to offer some variation on home painting services, often for extraordinarily low rates that approach minimum wage. Why would you go with a professional painting company instead of one of these low-bid contractors? Why should you use our painting service rather than just painting on your own? Severna Park has more than eight home improvement stores, so the DIY scene is absolutely frenzied with activity… but maybe painting is something that is best left to the professionals.

For one, our painting service is staffed by painters that have been in the industry for decades – which means they are able to tackle nearly any surface and any unusual painting requirements that might come up.

From historic properties to complicated surfaces and trim pieces, we have the equipment and the expertise to do everything right the first time. Our painters are also able to finish your painting job on time, and they don't leave a giant mess behind when it is time to leave your house. From the very first second that our painters set foot in your home, they use thick contractor-grade drop cloths to avoid damage to your floors and your furniture – and the only evidence they leave behind of their presence is your beautifully painted interior walls.
Severna Park Interior Painting Prep Work
What really sets the professionals apart from the amateurs and the weekend warriors in the painting industry is the prep work that they use for each painting job. Every surface has thousands and thousands of little pores and irregularities that make it difficult to paint without preparing the surface with primer, sanding, and filling in holes and gaps. In a way, the job of a painter is to prepare the entire canvas for the paint to adhere to – only then can the painter truly begin making your home look amazing.

Our interior panting prep work begins with your painting plan – and we make sure that you are happy with our suggestions before we begin planning. We believe that interior painting is a collaborative process, and there is a lot that we can offer the homeowner in the way of advice and support for their creative decisions. For example, did you know that glossy house paint actually is recommended over its matte counterpart in kitchens and bathrooms because it is less likely to show smudges that might accumulate thanks to humidity and traffic? Did you know that most "all in one" paints are actually inferior in quality to using separate primers and paints since they can't possible account for the difference between all the different surface types.
Contact Us Today For A FREE Estimate – Interior Painters In Severna Park MD
Fill out the form below or just call us at 443-790-7145 for a FREE Estimate on your Severna Park Interior Painting project. A member of our All Painting and Power Washing team will be in touch as soon as possible.
[contact-form-7 id="105″ title="Contact form 1″]