With a population of only 9,000 people – Edgewater is a sleepy suburb of bustling Annapolis, but the local real-estate market is anything but. With an average of 20 homes selling on the market every day, it seems like the entire community is poised for an unprecedented wave of growth. While many homeowners are trying to cash in on the real estate boom with complicated renovations and expensive 'big-budget' marketing, a simple interior painting project can do more than anything else to increase the appeal of your home to potential buyers. Believe it or not, most Maryland real estate agents state that homeowners can make the biggest difference to their property value with only minimal investment from a couple coats of interior paint – refreshing tired old styles with something that simultaneously plays to a modern palate and appeals to the masses.
All Painting and Power Washing offers the very best Interior Painting services in Edgewater MD.
How Can Interior Painting Help Your Property Value?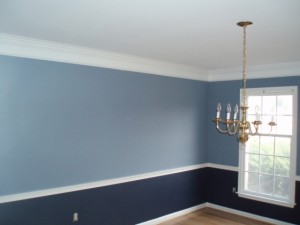 Imagine that you're a typical buyer that is looking through the Edgewater homes on the market to find a new place to move. Most buyers approach the purchase of a second home with the knowledge that they already have tons of furniture and their own décor, so they are looking for a home where they can easily transition their own sense of style to the new space. Which home would you be more likely to take a second look at, the home with the neutral and inviting rooms, or the home that is painted in wacky shades of yellows and oranges?

Even though you might enjoy living in a home where every room is its own festive shade of the rainbow, not all buyers will appreciate your color selection. This is just one of the reasons that real estate agents recommend you repaint your home in neutral tones before you put it on the market. Not only will it make your home more appealing to buyers to have a color scheme that they can imagine with their own furniture and decorations, it will make it much easier to match your home with staging supplies and furniture if you choose to go that route. Most upscale homes tend to use a neutral color selection with a lot of white and gray variation – since upscale homes are almost always sold to people that have existing furniture and their own firm sense of personal style.

Buyers of upscale homes in Edgewater MD usually expect to do some of their own repainting anyway, so having a home that uses "blank" walls of white and tan gives homeowners confidence that their color schemes will be easy to apply with minimal work.
Choose Interior Paint Colors That Work With Your Room Layouts
Paint can do a lot to brighten up a room, or to focus attention to a single object or central feature inside a room. For example, the same room painted dark blue looks almost twice as big when it is painted white – although the blue has other positive effects like giving the room a 'calming' vibe. In many homes, it is customary to paint the kitchen a vibrant color like yellow or red – believing that the bright color will help energize people after they are already awake and going about their day. Conversely, most people paint their bedrooms calming tones like light blue or tan.

If you are repainting your Edgewater MD home, you have a chance to work with your room layout to find the best way to emphasize your home's good features while helping to cover up the bad. If you have a finished attic or basement, for example, and the rooms are a little cramped with very little natural light, painting those rooms bright white or a very light shade of gray can bounce what light there is around the room – making everything appear larger and more open. You can add to this effect with your décor choice – using minimal furniture and putting mirrors up in strategic locations to make the rooms look even bigger.
How Do You Select a Paint Color?
There are literally an infinite number of paint colors that you can choose for your home if you are open to paint mixing – with every possible shade under the sun… so how do you pick just a few? To begin with, the best way to start picking colors is to amass a collection of color sample that you like – and a trip to a paint store or home improvement store is the first step in a fun and creative process. Most paint companies produce free cards that are designed to closely mimic the desired color, allowing you to take the cards home so you can see what the colors would look like in your own house. You might find that, outside of the harsh fluorescent lights of the home improvement store, the shades that you liked are suddenly darker and less appealing.

After you have a shortlist of colors that you like, usually two or three for each room, have your paint store mix up tiny samples of each paint. You can use these to paint swatches on your walls – telling you two things. For one, you'll get a better idea of what the color will look like once it is on your walls, so you know if the color is right for you. Just as important, you will get an idea of the consistency of the paint that you are using for the samples – and you will be able to tell whether or not you need a primer for the best possible color matching.

If you are painting over another dark/colored painted surface, you usually want to use a tinted or white primer so the paint that you are applying will stand out and the color won't be affected by the painted surface underneath. If you need any help with your color selection, or help figuring out what type of paint is best for the walls of your home, remember to call your local Edgewater MD interior painting experts.
Contact Us Today For A FREE Interior Painting Edgewater MD Estimate
Fill out the form below or just call us at 443-790-7145 for a FREE Estimate on your Edgewater MD Interior Painting project. A member of our All Painting and Power Washing staff will contact you immediately to discuss your free quote.
[contact-form-7 id="105″ title="Contact form 1″]