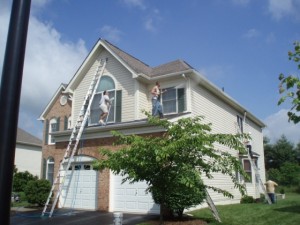 Maryland has a greater supply of freshwater than almost any other Eastern state, so it is any wonder that people in Edgewater MD use water-based methods to clean their homes? Water is a natural solvent for many types of dirt and grime – and pressurized water can rid your house or business of almost any dirt or stain. Power washing is one of the best methods to clean stubborn stains on the exterior of your home or on hardscape like your store's parking lot, sidewalk, or brick façade. No matter what you are trying to clean up, our Edgewater MD power washing crew can come restore your building to its pure and clean state.
All Painting and Power Washing power washing services are simply the best!
Responsible Detergent Use In Maryland
One of the first mistakes that DIY power washers or amateur "professionals" make when they power wash a building is the improper selection of the detergent that they are going to use. Not all buildings and cleaning jobs will require a detergent. In fact – detergents can be more harmful than good in some environments, and they are often used as a crutch by power washers that haven't yet mastered their equipment and the manual tools at their disposal to loosen up dirt and stains before trying to pressure wash the surface.

The most common additive to pressure washing solutions is actually bleach. Bleach kills everything it touches – so many people think it will be a good choice for pressure washing the walls of a home or business to kill and eliminate mildew. For sure, mildew will definitely kill the mildew – but it leaves the siding and the rest of the building looking blotchy and faded and the bleach residue gets on everything from the splash back of the pressure washer. Bleach also clouds windows, so you'll have to go window by window to clean by hand after pressure washing – just another chore that you could avoid if your power washing professionals use the correct detergents. Finally, bleach kills your plants and your lawn if it runs into the grass – so it is a terrible choice for a house that is surrounded by a lush and manicured landscape.
Power Washing With Hot Water
What really sets us apart from other power washing companies is the professional equipment that we bring to the job. Power washers that you might buy at the home improvement store don't have the reach or the pressure necessary to get the job done – but most of all they don't allow you to fine tune the heat of the water that you're using. With our commercial equipment, we can use liquid propane to heat our reservoirs to heat the water that we use for power washing. Power washing with hot water is much better that with a regular power washer – allowing us to get your home clean without using nearly as much detergent, and giving us the ability to break down stubborn stains through low pressure hot water and manual agitation with brushes and scrubbers.

Hot water power washing is also better at commercial pressure washing, specifically for parking lots and other areas where oil stains and grease stains are common. Regular water doesn't do much to loosen up oil and grease since they aren't water-soluble, but hot water can sweep these stains out of your pavement and into the disposal device. We also are frequently called upon to use our hot water power washing equipment inside commercial kitchens where a quick once-over with a hot water power washing device can save the kitchen staff hours of work trying to clean hard to reach grease hoods and areas on the floor.

Why don't all power washing companies have hot water machines? The truth is – hot water machines cost more than the standard power washing equipment, and people that only do a few power washing contracts each month might not find it cost effective to make a real investment in their business. We have been the go-to power washing company in Edgewater MD for years – and our equipment is all top of the line. You can reap the benefits of our investment in professional grade equipment with a cleaner home in less time than it takes for standard power washing. Our hot water machines make us the fastest pressure washing company in the entire Edgewater area – a major consideration for businesses that need to have rooms and buildings cleaned quickly to minimize the amount of impact that the cleaning will have on their opening hours and their bottom line.
Non-Toxic Detergents
If you've ever had your house pressure washed before and noticed that the air smelled "cleaner" after the power washer was done – you've observed the residue that the detergents leave behind on your property after a power washing job is complete. Power washing detergent residues are actually good if the detergents were high quality – since they can prevent the growth of mildew and they keep your surfaces protected while they are exposed to the sun and the rain. On the other hand, if your power washer uses cheap detergents that contain toxic chemicals, the residue can be a major issue. If you care about the health of the environment – or if you have children or pets that you want to keep safe from environmental contamination – you should use a professional power washing company that uses only non-toxic materials like we do.

Since we use a hot water unit for all of our power washing, we don't have to use the harsh chemicals that some other companies rely on to get rid of tough oil and grease stains. We use the mechanical power of pressure washing along with non-toxic detergents that have been approved for use around humans and pets and are environmentally friendly. We think that power washing is just one part of a comprehensive approach towards the cleanliness and maintenance of your home's exterior – and we provide other surfaces like repairing rotten boards and painting your home or business so it is protected from weathering and aging in the future.
Contact Us For A FREE Estimate on Power Washing In Edgewater MD
Fill out the form below or just call us at 443-790-7145 for a FREE Edgewater Power Washing Estimate. All Painting and Power Washing is the team for you!
[contact-form-7 id="105″ title="Contact form 1″]