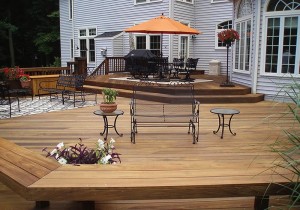 You probably sweep your floors several times a week, and you make sure that your windows and your porch are kept clean and orderly. But what about your roof? Your roof is unquestionably the most important element of your house – keeping you safe and comfortable and protecting the rest of your home from the elements. How often do you clean your roof? While many Severna Park residents might not realize it, roof cleaning is very important to the life of your roof.

When debris is allowed to sit on your roof for extended periods of time, it causes moisture to build up and mold to attack the vapor barrier under your shingles. In almost 50% of all roof damage claims that are filed against home insurance policies – the home insurance company finds that the home owner was ultimately responsible for neglecting the regular maintenance of their roofing. With Severna Park pressure washing, we ensure that your roof stays clean by spraying it with low-pressure detergents and power washing supplies – keeping your roof debris-free and the occupants of your home dry and happy.
Safe Pressure Washing In Severna Park, Maryland
Pressure washing on your roof is a sensitive area, and you shouldn't trust just anyone with the job. Improper pressure washing of your roof can peel back your shingles and roofing materials, leaving holes in the water tight barrier that keeps moisture from intruding on your home. Since you don't get to inspect your roof up close every day, mistakes made in pressure washing on your roof might go undiscovered until months later when you find yourself paying a contractor to fix major roofing damage or water damage in your attic and upper floors. It's much better to do things right the first time with a pressure washing company that understands what it takes to safely and effectively pressure wash Severna Park MD homes.

What many pressure washing companies don't understand is that the highest pressure washing setting isn't always the most effective for a variety of surfaces. On roofs in particular, the highest pressure setting can cause irreparable damage to the roofing materials since the shingles and tiles weren't ever meant to stand up to such a powerful blast of water. In fact, high pressure can actually force water underneath the layers of roofing material where it gets trapped next to the wood of the roof and causes rot and damage! Instead of using high pressure when we work on your roof, we use low pressure and a combination of highly effective detergents to leave your roof totally clean and to get stains out that might have been left behind by debris or by leaves decomposing on top of your roof.
Gutter Pressure Washing And Cleaning
One of the best ways to immediately change the way your home looks is to pressure wash your gutters. That's right – the gutters, work horses of your home, need to be cleaned every once and a while. Whether you have synthetic gutters or metal, we can clean then with specialized detergents to restore them to factory-new – leaving the rest of your home looking much better. Cleaning your gutters regularly also prevents blockages and the gradual buildup of debris that can clog your downspouts and will require more extensive cleaning if it becomes a problem.

Gutter cleaning can also prevent rust if you have a home with older gutters. In newer homes, pressure washing is actually the recommended way to clean gutters that have gutter guards installed, since the pressurized stream of water clears the screens on the gutter guards of the silt and dirt that gradually has accumulated over time. For gutter pressure washing and cleaning, look no farther than your local pressure washing experts. No matter how big or small your job, we can get it done quickly so you can go back to enjoying your home.
Pressure Washing For Vinyl Siding
Vinyl siding is a great investment for your home if you want to enjoy a similar look and feel for your house for the foreseeable future, and it requires very little maintenance and none of the painting that regular wood siding occasionally requires. Of course, vinyl siding isn't completely without faults – and it can be permanently stained if it is allowed to mildew for an extended period of time. Since most vinyl siding is bright white (since it repels UV rays and keeps the siding functional for longer) it shows mildew stains readily – a big problem in an area as humid as Maryland. Pressure washing can remove all the mildew from your siding, and it can remove most of the stains – leaving your home as bright white as the day that you decided to put the siding up.

When you pressure washing technicians arrive at your home to clean your siding, they will begin by applying a layer of the special detergent that they use for vinyl. Detergent is a necessary for vinyl siding because it helps to kill mildew while also lightly conditioning the surface of your home and brightening the surface. By using the right detergent (a safe non-toxic blend) the pressure of the pressure washing implements can be lowered – allowing them to clean your home without damaging the siding. Detergent also loosens up tough stains – and the combination of detergent and hot water is enough to defeat even the toughest grass stains and mildew.
Cost Effective Pressure Washing
Whether you are bringing in a team of pressure washing experts to clean your roof, gutters, or your vinyl siding – one thing is for sure. The money that you spend on pressure washing is a long-term investment in your home and its beauty, and it will pay off down the road many times over. No one wants to buy a home that looks like it has been attacked by the Jolly Green Giant, but pressure washing keeps away tough mildew stains and keeps your home looking brand new. Pressure washing your home shows your neighbors and potential home buyers that you are serious about your maintenance responsibilities.
Get Your FREE Estimate – Pressure Washing In Severna Park MD
Fill out the form below or just call us at 443-790-7145 for a FREE Estimate on your Severna Park pressure washing project.
[contact-form-7 id="105″ title="Contact form 1″]