Power Washers Serving Anne Arundel, Howard, P.G. County, And Beyond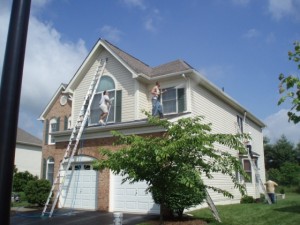 All Painting and Power Washing LLC doesn't cut any corners when it comes to power washing your valuable property, and we treat every job like we were washing our own homes. We recognize the importance of careful attention to detail – and we make sure that your entire property is sparkling clean and looking better than it did the day you moved in. From your first experiences with our booking staff to the time you are waving goodbye after a job well done, you'll be impressed with the quality of our Maryland power washing service from start to finish.
From dirt to mud, mildew to smoke stains, no grime is safe from the power washing experts at our local Maryland power washing company. We have experience with all kinds of surfaces – and we've successfully cleaned houses and businesses throughout the area. No matter your surface, and no matter the level of contamination that has settled upon it over the years, our power washing artists can turn your driveway, exterior, deck, or brick into a shining example of cleanliness that the whole neighborhood will be jealous of.
Power Washing for All Surfaces
When it comes to power washing, all surfaces are not created equal. Almost every power-washing company can clean a durable hardscape of asphalt or concrete, but how many "weekend warriors" with power washing equipment and a rented van would you trust on your home's siding or your carefully groomed garden paths? Improper power washing can damage your home and your property – peeling up your vinyl siding, tearing your shingles, and even poisoning your plants with toxic solutions that are commonly used by power washers that want to cut corners.
Protect Your Outdoor Investments
Just because pressure washing happens on the outside of your home doesn't mean it can't impact your wallet. Many independent contractors believe that they can pick up a pressure washing kit to make a few extra bucks on a weekend, but they end up doing far more damage than good for the people that they fool into hiring them. Pressure washing involves high pressure water, usually with some chemicals in it that loosen dirt and lightly bleach the surfaces of your home. Without the experience to know which detergents to use for each surface, and how to angle the pressure to clean a home without damaging it, a pressure washer can seriously damage your most valuable investment.
When you hire All Painting and Power Washing, LLC, you can rest assured that your power washers are professionally trained and have hundreds of hours of experience with homes just like yours. We also know exactly which detergents to use on each surface, and we adjust pressure for each surface using low to medium pressure, which is just as important as using the proper detergent – no bleach.
Always be wary, many lower-end power-washing companies use bleach which is harmful of your home, vegetation, animals, and the environment. Remember, bleach doesn't clean, it simply kills mildew while leaving streaks on windows, and blotches on your siding.
Here at All Painting and Power Washing we only use the best bio-degradable detergents for each surface leaving your home sparkly clean.
Safe Maryland Power Washing
Safety is our number one concern here at our All Painting and Power Washing, so we stay abreast of all the latest news regarding the detergents that we use. We strive to use only the best bio-degradable non-toxic detergents around your home so you don't have to choose between a clean home and a healthy family. We believe that you can have a perfectly presentable home or business without resorting to harsh chemicals that can harm the environment – so we only use the best brand name detergents like Atlantic House Detergent and Atlantic Wood Restorer. We even carry some of the specialty detergents to help us get the hard-to-clean areas like gutters and chimneys sparkling clean.
Maryland Graffiti Removal
Dealing with a graffiti problem on your home or business? Many businesses here in Maryland are constantly scrubbing and repainting surfaces to get rid of graffiti, but our power washing service uses special graffiti removal detergent and experienced technicians to remove your graffiti without damaging any of the surrounding surfaces.
We are also one of the only pressure washing companies in the area with the ability to fine tune the temperature of our pressure washing equipment. Hot water allows us to rid your surfaces of even the toughest graffiti stain, and it gives us the ability to brighten up your surfaces and prepare them for painting or for the application of special wall treatments that are resistant to oil-based graffiti paints. Graffiti is an unsightly menace in Maryland, but we have discovered (through experience and research) the best way to rid surfaces of this scourge while allowing home and business owners the chance to fight back with special paints and protectants to ensure graffiti is never a problem again.
Low Pressure Options
We are more than happy to work with you to find a solution to even the toughest cleaning need, using low pressure washing and hand scrubbing when needed to make sure that stains and dirt are gone while the underlying structure is safe and intact.
Our technicians use stiff bristle brushes and a little elbow grease to loosen up stains on your sensitive structures – allowing us to go in with lower pressure systems to clean up the structure since the dirt is already loose. This lets us preserve surfaces without leaving them dirty – and it can actually give your surfaces a longer life-span by removing some of the chemicals and biological factors that expediate rot.
Contact Us Today For A FREE Power Washing Estimate