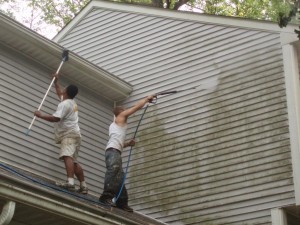 If you've never watched as professional power washers use their high-tech equipment to clean and polish surfaces, the results might seem like magic. Patios and decks that were once caked with mildew and dirt are suddenly so clean that they shine, and driveways look like they were freshly paved. Power washing is a relatively new innovation in the home improvement industry, but people are already taking advantage of its ability to change the appearance of surfaces in a dramatic way. If you think that your exterior surfaces are beyond saving, you might be surprised what a little power washing can do. With the right combination of hot water, detergent, and know-how, our Ellicott City power washers can turn any surface into a work of art. We're more than just the best power washing company in Ellicott City, we're the only company that locals turn to when they want their homes or businesses cleaned.

No job is too big, and no job is too small – we are the power washing provider that everyone in the Ellicott City area turns to when they need something cleaned or touched up on their commercial or residential property. Get in touch with our management today and schedule a consultation, or have our professional power washers come to your property to start a job at your earliest convenience. Power washing can increase your property value, it can make your customers happier, and it can bring you more business – so what are you waiting for?
All Painting and Power Washing offers the best in local Power Washing services!
Can We Help You With Power Washing?
Does your home or business need power washing? Can your surfaces benefit from a little cleaning? There are a bunch of reasons that you might require power washing – but here are just a few.

If your home or business has an otherwise good exterior and fresh paint, but it has become covered in dirt and mildew thanks to the humid Maryland climate and rainfall, power washing can rinse all of the grime off of your building to restore it to its former glory. The same goes for homes and businesses that have become stained by aging and the gradual accumulation of air pollution on light colored surfaces. Similarly, buildings that have become marked up by graffiti and vandalism are prime targets for power washing. Our professional technicians even have special detergents that they use to dissolve graffiti paints, so they can clean your surfaces quickly before you have to re-open for business the next day.

If you are preparing to paint a surface, you should power wash it first to remove all of the dirt and to allow your painters to prime the surface for maximum paint effectiveness. Also, power washing is a great way to get your building ready for sale or showing – and many home owners use a power washing service before they start taking exterior photos of their home for real estate listings.

Finally, there are some "unique" uses of power washing that you might not immediately think of. Did you know that many commercial kitchens and restaurants use power washing in their kitchens to clean the grime and grease residue out of their range hoods? Power washing can be used on any hard surface like tile or concrete – allowing you to easily clean gym floors, locker rooms, bathrooms, and even garages!
Power Washing For Pavement
One of the most neglected spaces in the typical business property is the parking lot. Business owners put a lot of care into the appearance of their buildings and their displays, but they forget about the parking lot… even though the quality of the parking lot is one of the first things that prospective customers notice. If you have a dirty parking lot, people that come to your business carry a negative perception of your brand before they even walk in the door – and especially dirty parking lots can be safety hazards since people can slip on oil stains and other spills.

Without power washing, cleaning your entire parking lot would be an impossible chore. Luckily, our Ellicott City power washing technicians have a full range of commercial grade equipment that they can use to wash your parking lot – including special hot water machines that use 200 degree water to eat away oil stains without having to resort to dangerous chemicals. Regular power washers are powerless against oil and grease – but we can cut right through the grime to make your parking lot a surface so clean that you could eat off of it. Power washing also works for residential driveways and other hardscape surfaces – and it is something that you should consider for virtually any outdoor use where you need to clean up spills and dirt.
Commercial Power Washing
One of the reasons that most area business owners turn to us when they want to have their businesses power washed is because our technicians are highly responsive and they understand the particular needs of the business community when it comes to maintenance and home improvement services. We realize that every second you have to keep your business closed for cleaning represents lost wages and disgruntled customers, so we get your power washing done in your office hours so you can open back up on time for the next day.

Businesses can't rely on the amateur power washing companies that litter the pages of Craigslist and the classifieds – they require power washing companies that have the ability to maintain a strict schedule and that can stay on budget. Our power washing company is reliable and prompt – and we have a commitment to repeat business that means our professionals always put customer service first. Our commercial power washing service is also able to schedule repeat visits on a time table that makes sense for your company. For example, if you are an apartment complex that needs periodic cleaning to keep the exterior of your property desirable for future residents, we can schedule periodic cleanings that take care of your apartment aesthetics without creating an administrative burden for your property managers or owners.
Contact Us Today For A FREE Estimate – Power Washing In Ellicott City MD
Fill out the form below or just call us at 443-790-7145 for a FREE Power Washing Estimate for your Ellicott City MD project. A member of our All Painting and Power Washing service team will be in touch.
[contact-form-7 id="105″ title="Contact form 1″]