Does Your Home Or Business Need Some Painting? Try Our Painter For A Day Program And Hire A Professional Maryland Painter For The Day!
Painter For A Day in Maryland
No matter where in Maryland you are, or how big your project is, the "Painter for a Day"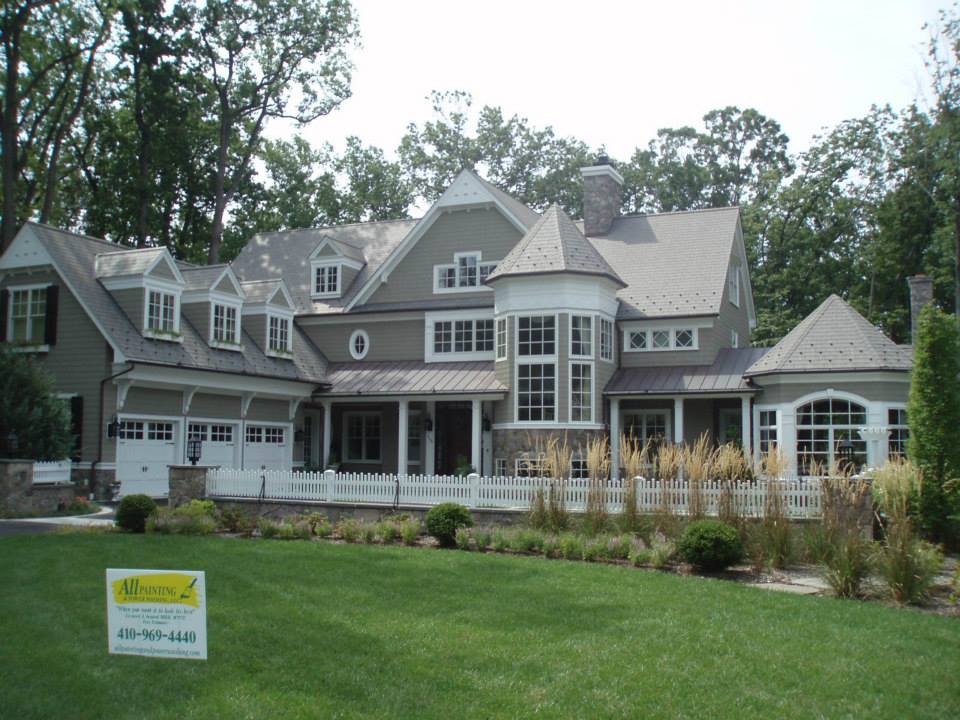 program is perfect for your needs. From touching up damaged spots on your house's exterior to complete re-painting projects that bring old houses into the present, our professional painters are standing by to tackle your job. Whether you need one painter or many, you can book your next painting gig through our flexible and professional service.
Maryland Painter For A Day
Even the smallest painting project in your home or business can be a huge hassle. Between selecting the paint, preparing the surface, and cleaning up when you're finished – painting is one of the least favorite tasks of even "Do-It-Yourselfers". Why subject yourself to a painting nightmare when you could have your Maryland house or commercial property painted by the professionals here at All Painting MD! Not only will our carefully selected painters do a better job than you could ever hope to do on your own, but they will ensure that your home or business is treated with the utmost in professionalism, care, and workmanship.
What Is The "Painter for a Day" Program?
What if you could hire a professional painter to take care of the hard parts of your painting project, while still retaining control over the type of paint used and other details of the project that can save you money and give you greater flexibility over your project. In the "Painter for a Day" promotion, you are able to save up to 50% on a comparable painting project by purchasing your materials separately and then reserving professional painters through our Maryland painting company. For a limited time you can reserve painters for only $455 a day – an incredible value considering that the painters are professionally trained, insured, and they come with a guarantee from one of the best painting companies in the industry.
The Painter for the Day Program is one of the only flexible painting programs of its kind in the entire Maryland area, and it will only be around for a limited time. Call "All Painting and Power Washing" to schedule your Maryland service – at (443) 790-7145. Your painters will show up with all the equipment that they need to begin painting – everything from professional-grade brushes and rollers to the drop cloths that will keep your furniture and your flooring protected.
We recommend that you purchase the paint that you need to speed up the process, so your painters can get right to work when they show up. Need a little help with your paint selection? Don't hesitate to give us a call. Paints come in a huge and bewildering variety. Once you've selected the color that you want to use, let us know and we can help you pick a paint type and consistency that works for your unique application. Remember, you don't have to buy the most expensive paints – but you should be aware that nicer paints are more likely to last longer and to give you the best results.
When you order the Painter for a Day, you get to be the boss. Do you think that one wall needs an extra coat of paint? Want a little help moving furniture out of the way? Our painters will do everything in their power to help you out – and they will make your life much simpler. From taking down holiday decorations to spot-fixing paint where you had the decorations hanging up – nothing is too big or small for our painters when you have them for a whole day. Need our painters for longer than the full day? Don't worry – we won't ever leave you hanging in the middle of a project – and our painters are available for overtime at a great rate of only $60 an hour. Don't delay – contact us today and reserve your Maryland painters for your next project!
DIY: Money-Saver Or Time Drain?
Most people think that they can do an adequate job of painting their home or business, but they are immediately overwhelmed by the scope of the job once they begin. Sure, the basics of painting are simple – apply paint and wait – but professional painters have years of training that separate them from amateurs, including experience with some of the trickiest painting applications like ceilings and corners. Professional painters are also much more efficient with their time and energy, and they can paint an average-sized room almost three times faster than a hobbyist with the same equipment.
Another problem with trying to do your own painting projects is the potential for the project to snowball out of control due to operator errors and mistakes. Something as little as misapplication of brush strokes can leave irregularities in the paint job of your walls or home exterior that require a complete re-paint, and often the equipment that DIY stores and home improvement stores foist on novice painters is completely inadequate for the job.
Save Money And Time With Your Maryland Painting Project
With our revolutionary Maryland painting service, you can reserve a particular date and time window for only $100, and your painters will show up on time and will complete the painting project that day – made easier by the fact that the paint has already been ordered and they don't have to worry about supplier delays or making "runs" to pick up additional project materials.
Sincerely,
Jeff All
All Painting & Power Washing LLC.