The unincorporated community of Ellicott City is informally called the "old haunted town of Maryland" by officials and residents alike. This is more of a tourism-friendly moniker than anything else, as the town couldn't be more picturesque. From the old houses that line the city center to the beautiful public buildings and renovated mills/barns, Ellicott City is a great example of what happens when community wide redevelopment goes right. If you want your old property to continue looking amazing – you need to maintain it with the right painting and exterior maintenance. Your exterior paint accounts for a great deal of your home's curb appeal and historic charm, and it would be a shame to trust your exterior painting to a company that doesn't have the experience necessary for such a vital job. Our Ellicott City MD exterior painters will help you complete your exterior painting job quickly and smoothly – with results that the entire neighborhood will envy.
All Painting and Power Washing is your best bet for Exterior Painting in Maryland.
Choosing An Exterior Paint Color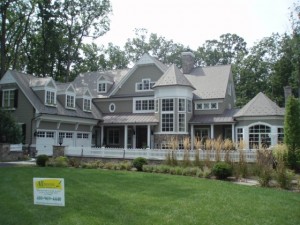 One of the things that makes Maryland unique among the Atlantic-coast states is the creativity of home owners here. People aren't afraid to paint their homes in outlandish (but awesome) fashion – and you'll see everything from sea-foam green to traditional colors like white and tan. Exterior painting is a much bigger job than interior painting, with greater expense and planning required, so the styles of exterior painting don't tend to change as much as they do with interiors. Even so, you have the opportunity to make a bold statement with your exterior paint selection – showing the world that you are unique and creative. Most colors that paint shops sell for interior paints will also work with exteriors, although they will require a different base to ensure that they last for a long time and repel the weather. Some bright colors do tend to fade in direct sunlight however, so consult with your Ellicott City painters to find a good compromise hue if you are looking for something truly eye catching.

The color that you choose for your home will probably have a lot to do with the color of your roof. It is far harder to change the color of your roof (and far more expensive) than to change the paint color – so most homeowners determine their house color based on the materials that were used for the roof. When you are choosing paint colors, you will typically need to pick two different colors for your home – one for the main house body and one for the house trim. Make sure that the colors that you choose work with any pre-existing "bare" material that won't be painted – including stonework, brick, or siding that you don't plan on painting. You can also paint individual accents on your home different colors – like the infamous bright red door on an otherwise plain house.
Exterior Paint And Property Values
If your home has fading or damaged paint, a fresh coat of exterior paint will unquestionably help your property values. Your exterior paint is the first thing that people see when they come to your house, and a bad coat of paint is a signal to potential buyers that there might be other neglected maintenance issues inside the home. Everyone loves old homes, but nobody likes a home that looks like it has been allowed to age without any real changes or maintenance – and a new coat of exterior paint will preserve your home while showing buyers that you've taken the time to address some of the biggest issues.

Unlike most other renovations and landscaping/property changes, exterior paint will pay you back with additional property value that is more than or equal to the money that you invest into the painting. Effective use of the right colors can do even more for your property value, since a well-painted house that is in a trendy set of colors will appeal to buyers that wouldn't otherwise look at the property with their agent. According to the Reader's Digest, the single most valuable thing that property owners can do before they sell their house is to repaint the house trim – including shutters and other accent pieces – a brighter color that will attract street traffic to the fact that the house is for sale.
Property Preservation With Exterior Paint
Another way that exterior paint can add to your property value is by preventing the deterioration of your home's exterior and reducing the amount of maintenance that you have to do to keep up your home's appearance. For example, many older homes were built with wooden siding that is prone to rot and to warping if it is left out in the sun/rain. Despite the fact that your wooden home was probably painted a long time ago, paint has a life span of only 15-20 years because of the gradual deterioration caused by the sun's UV rays. When your paint finally deteriorates enough that it no longer keeps out the elements, water can get into your wooden siding/house's frame. This moisture gets trapped under the surfaces of your home – leading to mildew, mold, rot, and even termites. Homes that are unpainted or that have damage to their painted surfaces are much more likely to have structural damage over time as a result of weathering.

Your primer selection can also help you protect your property – and maybe not in the ways that you think. When most of the homes in this area were built, the original builders used hardwoods and darker wood like redwood in the construction of the exteriors. Desirable because of their durability, these wood types are high in tannins that can leach out of the wood into the paint that you use. If you don't use a high quality primer that seals the tannins into the wood – your paint will rapidly become discolored and you sap the wood of the internal chemicals that keep it water-tight and well preserved. Proper use of stains, exterior paints, and primers is absolutely vital to keeping up an older wooden house – allowing your home to survive another century as a distinguished historic property.
Contact Us Today For A Free Estimate – Exterior Painters In Ellicott City MD
Fill out the form below or just call us at 443-790-7145 for a FREE Estimate on your Ellicott City painting project.
[contact-form-7 id="105″ title="Contact form 1″]