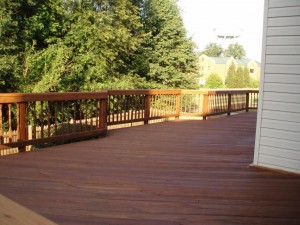 Pasadena is an idyllic community with beautiful historic buildings and some of the nicest examples of colonial architecture this side of the Mason-Dixon Line. OF course, these properties don't just stay looking beautiful, they take meticulous care and maintenance. When property owners want to clean the effects of aging and weather off of their properties, they call a Pasadena MD pressure washer. With all of the equipment that you need to keep your home looking great, we can come over to your Pasadena area property to wash everything from your house exterior to your driveway. Don't let mildew and pollution stain your valuable property – use our pressure washing surface to keep your porch, deck, patio, or house free of dirt and debris.

Can you imagine how frustrating it would be to clean your entire deck by hand? Many people in Pasadena have decks that approach the square footage of their entire home – a cleaning chore that is far too laborious to be done with a mop and bucket. Power washing can help you rejuvenate your home without spending hours toiling in the hot sun – and it's a great "first step" to preserve your porch or deck when combined with our professional staining and painting services.
All Painting and Power Washing power washing is now available in Pasadena MD!
Pressure Washing Your Deck
Here in Pasadena, the climate is mild enough that most people use their decks as an extension of their living room. Everything from family dinners to board game nights is made better when it takes place on a nice deck, and decks are the focal point for parties and social gatherings throughout the state. Of course, your deck is also particularly vulnerable to weathering – and it spends all of its time exposed to the wind and the rain. Even if your deck was built with pressure treated lumber and carefully stained or painted, it can still show signs of aging. Mildew stains, mold, and even rotting boards are all common on decks in the humid East Coast – but Pasadena pressure washing has a solution. Before you bring in expensive contractors to repaint and refinish your deck, give pressure washing a chance.

Our pressure washing technicians use special detergents that are made specifically for cleaning decks and porches – using light cleaning solutions to kill mildew while brightening the natural wood of your deck or structure. We also use the correct nozzles and pressure settings to wash your deck without damaging the stain or pitting the wood – since improper power washing can actually make your deck more susceptible to rot and damage in the future. After we are done with your deck or porch, you'll be amazed at the difference that the power washing made, and you'll be happy to invite your friends and family over for a night of barbecue and good times.
Deck Washing Techniques And Chemicals
One thing that separates our professional power washing company from DIY power washers and amateurs is our commitment to the responsible use of chemicals and detergents in every project that we undertake. We believe that detergents are nice to have, and that they can extend our capabilities while we power wash homes and businesses, but they aren't something that can be relied upon at the expense of good technique and skilled labor. For this reason, we never use bleach when we are washing decks and other property. Since bleach is a toxic solution, it can damage your plants and your yard when it splashes off of the deck. What is the point of having a nice and clean deck for entertaining when all of your plants around the deck are brown and dying? Bleach also leaves a residue on your deck that can damage the wood and be dangerous for your pets. Instead of bleach, we use a special biodegradable detergent that is meant for outdoor deck cleaning – specially formulated to be safe for wood… and humans.

We start by using our pressure washing tools to lay down a thin coat of detergent across your whole deck – killing mildew and loosening up any dirt that might be present. After the detergent has time to work, but before it dries into a film, we use our special hot water pressure washing machines to rinse your deck and blast away all the dirt and debris. For areas of your deck that have stubborn stains and problematic dirt, we use scrubber brushes and tools to clear the dirt away – leaving nothing but a pristine surface behind. We are always careful not to mark up your deck – and all of our detergents and techniques are safe for composite surfaces as well as wood.
What About Patios?
We can also pressure wash your patios and other outdoor living spaces – no matter the surface type. Concrete pads get very dirty over time, and the character of the patio can change when the concretes starts to darken and stain. Our pressure washing can bring out the original colors in your concrete – and it's also a great preparation to get the concrete surface clean enough for acid etching or other neat treatments that can add character to your outdoor space.

For brick patios, we use special detergents that are designed to clean bricks without damaging or eroding their porous surfaces. Brick benefits a great deal from power washing, and we can restore your brick surface to the bright red/orange that it was the day it was laid. Best of all, the results of your brick power washing will last for decades – as brick is one of the lowest-maintenance surfaces that there is.

Finally, power washing is also safe for your stone patios and the expensive stonework you might have on your home and landscaping. Many homeowners are worried that power washing will etch their stonework, or that it will discolor the stone – but we use safe chemicals and low pressure washing so we can clean your stonework without damaging it. We treat every home that we go to as if it was our own, and we take care not to damage your property. It is our goal to leave ever exterior cleaner and more beautiful than when we arrived – and we look forward to seeing our regular customers every few years for another cleaning.
FREE Estimate – Power Washing In Pasadena, MD
Fill out the form below or just call us at 443-790-7145 for a FREE Estimate on your Pasadena MD power washing needs. A member of our All Painting and Power Washing service team will contact you right away.
[contact-form-7 id="105″ title="Contact form 1″]