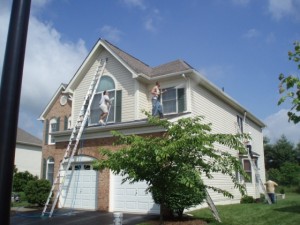 Are you sick of graffiti forcing you to close your business? Are you tired of repainting walls over and over again to cover up offensive spray paint and "tagging"? Ellicott City is a wonderful place to live, but over the past few years there has been a sharp increase in the frequency of complaints about vandalism and graffiti in some parts of the township. We offer a pressure washing service that carefully and completely removes graffiti and other unsightly discolorations of walls, pavement, and business exteriors – allowing you to resume normal operations without having to worry about spray paint and vandalism. With years of experience in the Maryland area, we have become the go-to experts at graffiti removal and pressure washing, and we can tackle tough jobs that would otherwise necessitate an expensive repaint. Before you call out the painters, call our pressure washers and see if we can remove your graffiti without the hassle.
How Do You Remove Graffiti?
With pressure washing equipment, graffiti removal is far easier than attempting to scrub the tough paint stains by hand. We use a hot water pressure washing system to blast the graffiti off of the wall, taking down even oil-based spray paints as if they were chalk on a chalkboard. For some tough graffiti, we have oscillating tips and brushes for our pressure washing tools that allow us to massage the graffiti off of the surface of your building without damaging the underlying paint or surface.

Too many other pressure washing companies rely on just the high pressure alone of their equipment to take down graffiti, but this isn't usually enough. Graffiti paints are almost always oil based so they are more permanent than latex and water-based paints – and they don't dissolve in water. Since they aren't water soluble, prolonged contact with high pressure water doesn't make the paint go away… it makes the paint harden into a glue-like mass that resists all attempts to remove it. Instead of blasting the graffiti with room-temperature water and expecting it to magically disappear, we use a combination of special industry-leading detergents (designed to conquer any type of graffiti) and high temperature water that has been heated by our propane heater to more than 200 degrees Fahrenheit so it will break down the graffiti paint on contact and will actually draw the oils out of the walls along with the paint.

If you've ever seen the aftermath of an amateurish pressure washing job, you know firsthand why pressure washing should be trusted to the professionals. People that are unfamiliar with the power of pressure washers tend to underestimate the amount of damage that they can do to surfaces if they are left on for too long – so you can see scarring in the surface after they are done with pitting and fading from where the pressure washer removed the graffiti. Obviously, we strive to remove graffiti without damaging the surface underneath – and we return your surface back to its original state without any "ghosting" around where the graffiti used to be.
Water Control And Disposal
Here in Ellicott City, there are a few municipal ordinances that affect the ability of a business or home owner to pressure wash their property. Since many pressure washing detergents contain compounds that you wouldn't exactly want in the town's drinking water, there are ordinances that require pressure washing companies to control the water that they use for pressure washing – ensuring that the water is properly diverted and isn't just washed into storm drains near the property that is being cleaned.

We are always committed (and justifiably so) to this community, and we take every step possible to make sure that our pressure washing is environmentally responsible and that it follows all necessary laws and regulations for the state and the township. We use barriers to prevent our waste water from flowing into the storm drains in our work sites, and we use all biodegradable and non-toxic detergents so none of our pressure washing chemicals will hurt the environment or run afoul of the local laws.
Commercial Kitchen Cleaning
There are plenty of other uses for commercial pressure washing – and if your business hasn't already hired a pressure washer, you will surely find a use for one in the upcoming few months. Even if the exterior of your business is maintained by your landlord – you might still find that a pressure washer can greatly reduce the amount of work that you have to do inside your place of business. From restaurants to catering venues, many businesses in the Ellicott City area use pressure washing to take care of their daily kitchen cleanup.

Kitchens in the modern restaurant are basically made to be pressure washed. All the surfaces are either stainless steel or tile/concrete – and the biggest problem from a dirt accumulation perspective is grease and cooking oil. Pressure washers usually don't do well with grease-based stains since they aren't water soluble – but a warm water pressure washing system can push grease stains away with ease – funneling all of the filth in your restaurant down to the drains and out of your kitchen.

If you are doing your yearly deep clean, or just cleaning your range hoods and the hard-to-reach corners of your commercial kitchen, a pressure washing team can make the whole job more manageable. Not only will pressure washing help you get the hard to eliminate stains out of your kitchen, but the detergents will leave you kitchen smelling fresh and your employees will be happier since pressure washing will save them hours of laborious cleaning and scrubbing. If your kitchen is due for an inspection, or you just want to "start fresh" with a totally clean kitchen that looks like the day you purchased all new equipment, call our pressure washing company and we'll come out to your Ellicott City restaurant, hotel, or other business for a free estimate.
FREE Estimate – Pressure Washing in Ellicott City MD
Fill out the form below or just call us at 443-790-7145 for a FREE Estimate on your Ellicott City MD pressure washing project.
[contact-form-7 id="105″ title="Contact form 1″]