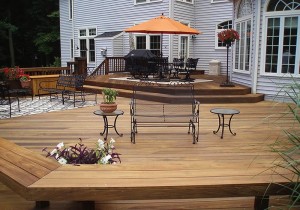 Is it really that important to contract your pressure washing needs to a professional service like your local Edgewater MD pressure washing company? Isn't pressure washing the kind of thing that can easily be done by yourself, or with the help of a couple general laborers? While many home and business owners think that they might save a little money by skipping the cost of pressure washing assistance – they are actually setting themselves up for major problems down the road. Not only can improper pressure washing cause permanent damage to fragile surfaces, but pressure washing is an inherently dangerous activity that should only be done by someone with experience using the pressure washing equipment. Pressure washing machines operate at a high heat, with many moving parts, and they cause hundreds of injuries every year that could be avoided if people would use professional pressure washing services before attempting to do everything by themselves.
All Painting and Power Washing is the team for you!
High Pressure = High Risk
Pressure washing equipment essentially forces water droplets through a tiny nozzle at an extremely high pressure. While water might not seem dangerous, water that is being forced out of a device at such a high velocity can actually cut skin if it is held close to an exposed body part. In fact, a similar device to a pressure washer is used to etch metal in some industries! Many people are injured trying to pressure wash their own homes because they just aren't familiar with the extreme amount of power that even low-end pressure washers can push out. For example – some people think that they can use their pressure washers to clean off their feet (in flip flops, of course) while they are pressure washing the deck… a recipe for disaster and a trip to the emergency room. When you hire a professional Edgewater MD pressure washing company, you can stay safe and sound inside your own home while technicians clean the exterior of your house for you.

With the high pressure that these implements operate at, there is also the danger that foreign debris (like dirt and pebbles) will be kicked up by the water spray and will end up in your eyes or in the eyes of a bystander. Professional pressure washing companies have been doing this for so long that they know exactly how to control their pressure washing tools on any surface – and they wear eye protection to protect themselves at all times. Is it really worth risking your eyesight and your safety just to save a few dollars with your next pressure washing project? Of course not. Call your local Edgewater MD pressure washing company and set up an appointment today – and step back from this particularly burdensome chore. There are plenty of things that you can do around your own home for maintenance and home improvement – but pressure washing shouldn't be one of them.
How Often Should You Pressure Wash Your House
Since pressure washing can be used on such a wide variety of surfaces around your property, it's hard to give a single schedule that a homeowner can use to organize their pressure washing schedule. We typically recommend that residential clients schedule a "whole-house" pressure washing appointment for once every year – allowing pressure washers to clean mildew and other debris off of the home, gutters, siding, and any accent pieces. This is important to keeping the home looking good, and it prevents mildew and other dirt from having long enough to stain the siding and the other parts of the home. You should consider having your roof pressure washed once every three or four years – although you won't need your roof pressure washed as often if you keep on top of other basic maintenance like blowing leaves off your roof regularly and making sure that there isn't anything that can stain your roof that sits on it for any length of time.
Pressure Washing Tips For Edgewater, Maryland
Yet another reason to use a professional pressure washing firm is the huge difference that you will notice in the results of a pressure washing job that is done with professional commercial-grade detergents versus the kinds of detergents that are used in enthusiast-level pressure washers. For example, many people use bleach in their pressure washers when they are cleaning a house for the first time – since bleach seems like a relatively cheap and simple detergent to use for mildew killing and sterilizing the house.

Unfortunately, bleach isn't ideal for pressure washing for a whole host of reasons. For one, bleach leaves behind a thick residue that doesn't rinse away easily – and you end up coating your entire home or deck with bleach – causing damage to wood and leaving toxins all over your property that can wash into your garden or can be absorbed by your pets and family. Bleach residue also makes it almost impossible to get the outside of your home "truly" clean, since you spend all your time after the pressure washing is complete trying to scrub the bleach streaks out of your windows.

Pressure washing is something that takes a lot of practice to get truly "good" at, and a bad pressure wash can be worse than no pressure wash at all. Many of the people that advertise their pressure washing services on sites like Craigslist don't do pressure washing as a main business – they offer pressure washing because they picked up a cheap kit at a home improvement store and they're looking for an easy way to make a few dollars on the weekend. Pressure washing isn't something that you can do at any real level with a consumer-grade kit – it takes commercial equipment and thousands of dollars worth of training and experience before you can do a good job on homes and businesses. We are the pressure washing company that Edgewater Maryland trusts with its exterior cleaning – and we provide other commercial services that the other guys won't even touch, things like kitchen cleaning and complete pressure washing contract solutions.
FREE Estimate – Pressure Washing In Edgewater MD
Fill out the form below or just call us at 443-790-7145 for a FREE Estimate on your pressure washing project in Edgewater MD. A member of our All Painting and Power Washing team will be in touch soon.
[contact-form-7 id="105″ title="Contact form 1″]